New Zealand Plastics Industry Design Awards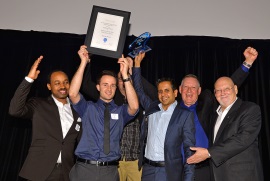 Our biennial Industry Design Awards showcase the best we have to offer and showcases the level of expertise and innovation of individual companies. The aim of the awards is highlight the world class capabilities of the New Zealand Plastics Industry.


The New Zealand plastics industry is flexible and agile, specialises in small run, high quality products and manufacturers export their products around the world. We are an enabling industry which supports other industries critical to the NZ economy. Held every two years, our New Zealand based Manufacturers, Designers and Brand Owners have the opportunity to enter their new and innovative products into a specialised Industry Design Awards that recognises this uniqueness. Entry categories focus on the Product Design and Manufacturing processes of Plastics based products, along with Environmental Achievement, Toolmaking and Export Success.