Plastics & Environment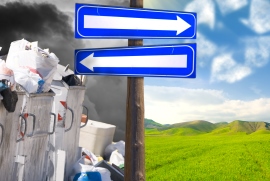 All products have an impact on the environment throughout their lifecycle. Plastics NZ works hard with it members and with its Environmental Committee to minimise these impacts by encouraging the production of plastics in an economically, socially and environmentally responsible manner.
There are a number of environmental benefits to using plastics which are often overlooked including increased fuel & energy efficiency, prolonging the shelf-life of foods and enabling life-saving medical technologies. For example, today's plastics make up 50% of the volume of new cars but only 10 percent of the weight, which helps make cars lighter and more fuel efficient, resulting in fewer CO2 emissions.
Alongside this most plastics are manufactured from a gaseous by-product of the oil-refining process (ethylene). Only 4% of the world's crude oil and natural gas production is used for plastics and much less energy is used to produce it compared to other materials. Increasingly, plastics are being manufactured from bio-based materials (those made from renewable bio-materials such as castor beans, organic waste, algae) and as a result reducing their impact on the environment.
Plastics New Zealand gets involved with the community, industry and government, helping to promote the 'think global, act local' sustainability message through practical initiatives.
Current projects include:
Please Contact Plastics New Zealand if you are interested in setting up any environmental projects in the plastics industry. Plastics New Zealand has experience in accessing private sector and government funding for environmental projects.