EPS Recycling #6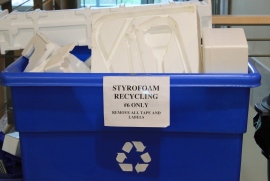 Expanded Polystyrene (EPS) takes up a lot of space in landfills, weighs very little and like all plastic products is durable. To encourage recycling some Councils have introduced a high minimum charge or a volumetric price because of its size.




EPS is also a valuable resource that can be recycled to make new insulation products for housing, resulting in better health and living standards.
Plastics NZ supports New Zealand Recyclers that are processing waste EPS. Many manufacturers and retailers are now able to collect waste EPS, on behalf of therecyclers and deliver it to their processing facility.
Polystyrene on Building Sites

Industry body Plastics New Zealand wants to encourage better handling practices of EPS on building sites to reduce the amount of construction EPS waste reaching New Zealand landfills. Member Companies offer a recycling service for clean offcuts at building sites and a regular collection. For further information please discuss with our EPS Manufacturing Member Companies involved in the Polystyrene on Building Sites Initiative
By supporting this initiative the Plastics NZ members contribute positively towards recovering all EPS waste from their own operations which will help stimulate consumer demand and create a viable EPS post-consumer market.
What is Airpop?
Airpop is a fresh name for expanded polystyrene – a product that's been relied on by Kiwis for decades.