Polyethylene Pipe Market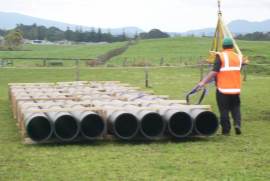 Polyethylene (PE) pipes can be used in pressure and non-pressure applications. This flexibility allows them to be used as water supply, sewerage, gas, compressed air, mining, irrigation and drainage pipelines.
In line with international trends, the use of PE pipes has increased dramatically in New Zealand over the last decade with quantities increasing six fold.


One of the advantages of using PE pipes is the resulting reduction in installation costs. PE pipes can resist ground instability allowing trenchless technology to be used. This means there is minimal disruption to traffic, business and other activities. PE pipes are supplied in straight lengths or coils and can be joined using butt and electrofusion techniques or by mechanical compression fittings.
There is a range of ISO compliant compounds used in the manufacture of polyethylene pipes depending on the flexibility, temperature, strength and toughness required. In some cases recycled material can be used in the manufacturing process.
In New Zealand member companies manufacture PE pipe in sizes up to 1.2 metres in diameter.