Polyethylene Pipelines Industry Group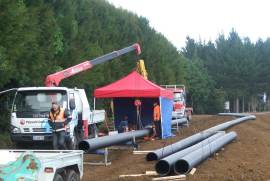 The Polyethylene Pipelines Industry Group was formed June 2015 to focus on polyethylene (PE) pipe line solutions. The Group supports all industry participants including asset owners, specifiers, engineers, contractors and suppliers to ensure PE pipelines are correctly designed, specified and installed.
A current focus for the Group is training and education. It is advocating and supporting initiatives that will bring pipe fusion training up to best industry practice. It is also seeking the creation of a National Competency Register and re-certification scheme for all polyethylene fusion welding technicians.
Current Group Members
If you are interested in joining the Polyethylene Pipeline Industry Group please read the following document:
.