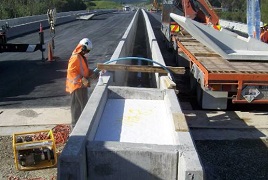 05
Jul
Recycled polystyrene on the rise as quick cost-effective option for aiding construction
Inventor Richard Moore's recycled polystyrene has featured in the making of a major road in Kapiti, a modern apartment block in Wellington, and now a commercial building in Porirua.

The entrepeneur and inventor, who runs Poly Palace in Porirua, has spent more than a decade creating a machine from junkyard parts that turns polystyrene waste into dense, lightweight fill for construction.
In 2016, Moore diverted enough polystyrene from landfill into making the Kapiti Expressway between McKays and Peka Peka, north of Wellington, to fill an Olympic swimming pool.
The next big project saw about 300 cubic metres go into a new apartment block along Molesworth St in central Wellington.
Moore's current job will see about 210cum - recycled out of high-quality product from polystyrene manufacturing firm Styrobeck - being used to help set the foundations of what will be a storage unit on Paremata Cres.
That's roughly the same amount of plastic as 650,000 shopping bags or 1.2million plastic straws, Moore said.
"It's not waste until it's wasted."
His polystyrene blocks, called Eco-Slabs, are basically being used as a void filler to hold the building's concrete base still while it sets.
The foundation is like an upscale version of the RibRaft-style base often seen at the bottom of domestic houses.
By using polystyrene instead of dirt, for example, construction can happen faster and easier which also makes it more cost-effective.
And it was still about $30 a cubic metre cheaper than just dumping it in a landfill, he said.
Moore described his Eco-Slab machine as being like a giant cappuccino machine fed by a hay baler.
The original machine was made from components including an old dentistry vacuum pump, a molding apparatus from an old sewage plant, and a cutting appliance originally designed for use with washing machine motors.
Crushed polystyrene was fed in, melted, and bound back together with hot steam. It comes out of the dripper and is able to be bound into dense blocks.
"So if it's that easy and I can do it ... surely if we're focussed on recycling we can do it on a larger scale."
Source: Stuff