Product Stewardship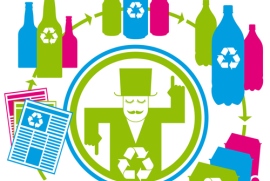 Plastics NZ supports the principle of industry-led, voluntary product stewardship and accepts that all parties involved in a product's life cycle need to share the responsibility for the environmental impact of the product.




The Waste Minimisation Act 2008* provides a regulatory framework for the establishment of voluntary product stewardship schemes. Product stewardship moves responsibility for waste to those involved in the production and supply of the product and indirectly to the consumer by ensuring the costs of its disposal are reflected in the purchase price. It involves those who know the most about the product – the businesses who make and sell it – in designing the solution.
As an organisation Plastics NZ has been actively promoting product stewardship for several years.
Initiatives we have launched include:
Running our sustainability initiative since 2003
Our Best Practice Programme which has been running for more than 9 years, is a great example of our companies leading the way by taking a lifecycle approach to product stewardship
The production and promotion of our Design for the Environment guidelines with an emphasis on initial design and recyclability
Working closely with the recycling and composting industry and local government to ensure our products can be recycled or composted in New Zealand
Working with brand owners, recyclers, and local government to increase the post-industrial and post-consumer plastic that is recovered in New Zealand
Product stewardship and design for the environment are integrated into our training in the Diploma in Design and Specification of Plastics and the NZ Qualifications Authority Unit Standards for Plastics.
Working with all stakeholders on the stewardship of degradable plastics in New Zealand