Plastics ID Codes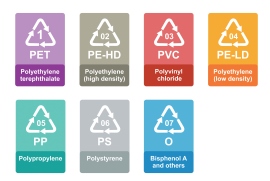 Plastics New Zealand works to maximise the growth and success of plastics-based technology in New Zealand in an economically, socially and environmentally responsible manner.

Our Members voluntarily label their plastic products using an international labelling system so they are easily identified for reuse and recycling. This method of categorisation was developed in 1988 and Plastics New Zealand was an early adopter, introducing its own plastic identification coding system in the eary 1990s. 97% of New Zealanders now have access to some form of community or kerbside recycling (although the collection of different plastic types varies by location). Labelling of different plastic types helps recyclers to identify and separate different plastics. It also helps consumers to do the right thing when they know what kind of plastic they are dealing with.
Download a copy of the Plastic Identification Code here...