Plastics as a Career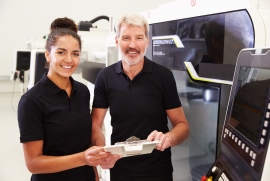 A career in the plastics industry means working in an exciting and fast-paced manufacturing environment. You will get to work with leading edge technologies, in safe and environmentally conscious workplaces, developing or making products that are used in almost every industry.
There are many career options waiting for you if you choose to work in the plastics industry. From technical and design roles to management and professional positions you will find a wide range of possibilities. Entry into the plastics industry can be from a pathways program from school, from other manufacturing industries or from university. Employees in plastics processing roles can undertake training in plastics technology or engineering apprenticeships. Most of the training is delivered on-job, meaning you can study while you work, and is delivered by the Industry Training Organisation (ITO), Competenz. They arrange and deliver the national certificates, diplomas and apprenticeships available to plastics processing employees.
Apprenticeships: Apprentices in plastics technology and plastics engineering become valued trades-people who run and maintain processing and associated machinery. They also service machinery when a production run ends and various changes are needed to commence another. They make and maintain the dies used to make plastic products. A plastics apprentice completes a Level 4 National Certificate in Plastics Processing Technology or Plastics Engineering. Each takes about four years to gain.
Higher Tertiary: Many designers and engineers graduating from university end up working with plastic as part of their job. In todays world it is rare to find a product or system that does not use plastics. These materials are used in everything from buildings through to life-saving medical technologies. Specific plastics knowledge required for design and working with plastics is often learnt on the job or through post-graduate studies.
Once you have established your career in plastics there are plenty of opportunities for career advancement. Plastics NZ supports continuing education through events and training with our own events and seminars and through our training partners Competenz and The University of Auckland which offers the Post Graduate Certificate in
Engineering (Plastics). These events cover both technical plastics and general business areas.
Talk to your school's careers advisor to find out more.