Help us address one of our industry's biggest issues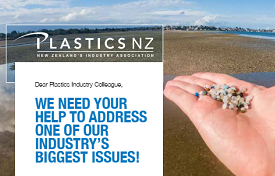 Plastics New Zealand would like to ask for your help.
Our industry is facing huge scrutiny over plastic ending up in waterways and the sea. Plastics NZ has been out finding plastic pollution issues on manufacturing member sites, and helping them to fix these, through the global Operation Clean Sweep programme. To the end of May 2018, 44 New Zealand sites have been audited and now meet the standard of the programme.
Now we would like to reach out to the rest of the plastics industry to encourage them to do the right thing and prevent raw material from entering their site stormwater drains.
We discussed this at our recent Conference and received supplier member support to approach their customers to help meet our goal of all NZ plastic manufacturing and distribution sites being compliant with this programme.
Attached is the flyer that suppliers will use when making contact with their plastics customers that have not yet taken part in Operation Clean Sweep.
A list of companies who have already received Operation Clean Sweep accreditation can be found here .
If you have any questions, please don't hesitate to contact us on (09) 255 5662.