Good Caps Pilot: Can Lids and Caps be Saved?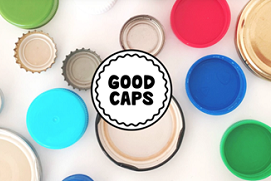 Lids and caps may be small, but they represent a challenge at end of life. Their size means they are easily lost through sorting at Material Recovery Facilities, but (as they are often a different material from the packets they partner) many councils do not conduct lids and caps on collection.
The Good Caps pilot was set up by an industry led working group to test the viability of a separate lids and caps collection system. With the standardisation of kerbside collection failing to address lids and caps, and the proposed container return scheme recently being deferred, this work is more relevant than ever. The report, which includes key learnings and recommendations is not available to read (link at end of article).
The main aims of the programme were to:
Divert lids/caps from landfill and the environment.
Raise awareness of environmental issues around lids/caps through educational engagement.
Investigate the success of collecting lids/caps separately from kerbside recycling.
Collect data around what formats and types of materials the returned lids/caps were.
Working with 12 schools across the Hawkes Bay region, the Good Caps pilot ran a competition to see which school could collect the most plastic and metal lids and caps. The lids and caps collected were analysed to identify material type, product type, and volumes. This material was then sold to reprocessors and the earnings donated to Kidney Kids.
Twelve primary and intermediate schools in the Hawkes Bay participated in the pilot, with collection taking place over a 10-week duration in Term 3 of 2022. Students were tasked with collecting as many plastic and metal lids/caps as they could during this time, with prizes going to the winning schools. 'Lids and caps' were left deliberately undefined to gauge what students, teachers and whanau deemed to fit the category.
To make sure the program ran effectively, schools were offered professional development for their teachers from Nanogirl Labs. This supported teachers in engaging their students in the competition. The winning school was awarded a Nanogirl Labs interactive lesson for their students. Enthusiasm was high with the incentive of this prize; a fantastic 2,800kg of materials was collected in total. This included 918kg of plastics and 1,926kg of metals.
The Good Caps project identified that an opportunity exists to capture a valuable and significant resource. Calculations indicate that in the Hawkes Bay catchment alone, the volume of materials in lids and caps is ~1,526 tonnes of plastic and ~2,070 tonnes of metal.
Read the full report and recommendations here: