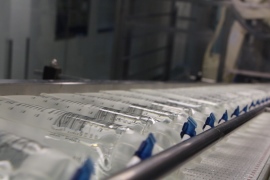 An innovative recycling program from Baxter Healthcare is helping hospitals across New Zealand to reduce their environmental footprint. A leader in sterile fluids, aseptic compounding and products used in renal and surgical care, Baxter has played a vital role in the New Zealand health system for more than 30 years.


Its compounding pharmacies and distribution warehouses in Auckland and Christchurch provide essential hospital and renal products that help to save and sustain lives.
The company is one of the largest providers of IV and Irrigation fluids locally manufactured for the New Zealand and Australian healthcare sectors.
Demand grows for PVC recycling Baxter's commitment to sustainability and high-quality medical-grade PVC ensure its solution containers can be commercially recycled here in New Zealand.
Launched in late 2014, the PVC recycling program is now in place across 30 private and public hospitals in the North and South Islands.
Working in partnership with local hospital staff, Baxter expects to collect about 100 tonnes per annum.
As part of the program, designated bins are installed across hospital wards allowing for the collection of Baxter and non-Baxter products including oxygen tubing and oxygen masks.
The collected material is then distributed to a third-party recycling company, MATTA Products located in Otaki, for the manufacture of industrial and children's playground matting. MATTA Products export to Europe and the USA along with supplying the local market.
Baxter works closely with hospitals to train clinical staff on the correct and safe method for recycling PVC collected from intensive care units, operating theatres, dialysis units and other wards and departments.
Recycling in the home Across New Zealand, Baxter has also started a free program to recycle PVC containers used by patients undergoing peritoneal dialysis at home.
More than 120 patients on the North and South Islands have signed up to the program to reduce household and council waste.
The free recycling program is open to patients living in metropolitan areas and whose therapy is delivered by Baxter.
A leader in environmental sustainability Globally, Baxter's broad range of efforts in corporate responsibility and environmental stewardship include driving sustainability through its global manufacturing operations, providing a safe workplace and resources to maintain and improve employee health and wellness, and managing a sustainable supply chain.
In 2016, Baxter was recognised for the 17th consecutive year in the Dow Jones Sustainability World Index (DJSI World) - among the most prestigious global benchmarks for corporate responsibility and sustainability.
Baxter is one of only a few companies that has been included in the Index each year since its creation in 1999.
Baxter was recognised for its industry-leading performance in corporate citizenship and philanthropy, environmental policy and management systems and environmental reporting.
General Manager Baxter ANZ, Steven Flynn, said Baxter and its employees are proud of the company's leadership in corporate responsibility including its commitment to environmental sustainability.
"Baxter has a long history of delivering industry-leading healthcare products through responsible and sustainable operations," Mr. Flynn said.
"Demand for our PVC recycling program continues to grow in hospitals across New Zealand and has become a key differentiator for Baxter in the manufacture and supply of medical fluids and renal products.