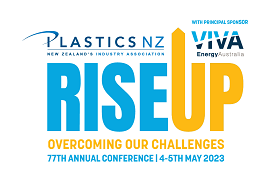 23
May
Conference 2023 Wrap Up
A diverse mix of delegates from across the industry came together at the Plastics NZ annual conference to network and hear from a fabulous line-up of speakers. The concentrated opportunity to build business connections and learn from each other ensures a strong plastics community.
"This was one of the best conferences ever - relevant, packed, lots of fun"
With over 60 first timers, delegates experienced a diverse line-up of enthusiastic and informative speakers, with plenty of ideas and takeaways for their business and personal development.
Keynote speaker Dr Lucy Hone impressed on us the importance of well-being and resillence of you and your staff, and the huge impact this has on how well you will successfully rise up to face the challenges ahead of the industry. Her personal experience tugged at the heart strings, and she offered plenty of take-home solutions to help delegates.
"Loved Lucy. A useful and practical interactive presentation
with the ability to practically apply the knowledge."
Robert Michael shared his personal experiences following a major fire fire ripping through TruDesign Plastics. His advice on navigating the challenges of business disaster recovery tied in with Willis Towers Watson's take on insurance issues was thought provoking and extremely relevant to the industry.
"Good range of topics; different aspects of varying professions and experiences."
Compelling presentations on circularity, sustainability, introducing product stewardship and the benefits of implementing Industry 4.0 or MES Software into your business provided a diverse range of topics for delegates. Plastics NZ's update on activities occurring locally and internationally, along with a humorous but insightful look at the economic big picture from Tony Alexander, captivated delegates and ensured the time flew by.
"Presentations showed that we as the industry should be moving forward &
not waiting for the government to make the moves".
Networking, building business connections, renewing old friendships, and making new ones, is an important part of conference. Delegates enjoyed multiple opportunities to do this during the events that were held and the catering breaks during the days. Some events, like the Networking event held at the Milton Street Substation on the Wednesday evening gave delegates the opportunity to mix and mingle with people from across the whole industry.
Other events not quite so serious, like the 'Favourite Celebrity' themed Gala Evening event (Who can forget Ronald McDonald's Uber Eats) which saw Competenz Te Pūkenga present its Trainee and Apprentice of the Years Award. The event also included special recognition for Morris Watson on his 50 years of conferences (an event that will unlikely ever be achieved again), a Life Membership bestowed on Murray Knight for his dedicated years of service to Plastics NZ, before in a myriad of costumes delegates took to the dance floor with the incredible dance band Mirrors.


Special thanks to principal sponsor Viva Energy, other sponsors and trade exhibitors. Without your support these events would not occur. Thanks also to our speakers who gave up their time to share their knowledge and expertise with the industry. Your support is astounding!
Last, but certainly not least, to the delegates that attended. We hope you enjoyed yourself, made new connections, refreshed old friendship, and left conference full of ideas and enthusiasm to 'rise up' to the challenges ahead in your roles and your business.
We look forward to seeing you in 2024!
The 2023 Conference presentations are available for Members to view in our Members section (Note: Members you will need to login in first to view).