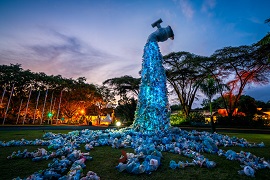 22
May
Plastics Innovation Fund - Round 2 Closes 30 June 2023
Do you have a project that will minimise plastic waste and its harm on the environment? The Plastic Innovation Fund (PIF) is seeking to fund projects that find ways to use less plastic and make what we do use reusable or recycable. Applications for Round 2 of the Plastics Innovation Fund close 5pm 30 June 2023.
Kirsteen Pikin-Douglas, Senior Investment Manager for the Plastic Innovation Fund, spoke at the recent Plastics New Zealand Conference providing further detail and progress on the projects that have recieved funding from round 1 and what you need to do if you'd like to apply for the Round 2 Funding.
View her presentation for further detail or visit the Plastic Innovation Fund pages on the MfE website
Focus of current funding round - Projects that help reduce soft plastic waste
The focus this funding round is on solutions that either design out soft plastic waste in the first place or contain and recycle it (rather than disposing or landfilling).
We are interested in projects that sit higher up the waste hierarchy. Applications that propose the mixing and downcycling of soft plastics, or single-use alternatives to plastics, are unlikely to be supported if the alternative product will end its life at landfill or contaminate other waste streams.
Note: Soft plastics include flexible plastics, bags, packaging and films (eg, LDPE, HDPE and Polypropylene). If you are unsure, email This email address is being protected from spambots. You need JavaScript enabled to view it..
See the criteria for approving funding of projects
Eligibility
Any New Zealand-based legal entity can apply for funding.
Visit the Website: Plastics Innovation Fund