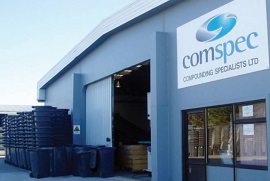 18
May
Comspec Acquired by Plastics Recycling NZ
Recycling experts Compounding Specialists Ltd (Comspec) located in Christchurch, has been purchased by Plastics Recycling NZ, a joint venture between Aliaxis NZ and Waste Management NZ.
The Plastics Recycling NZ joint venture was formed in 2022 by Aliaxis NZ and Waste Management NZ to invest in plastic recycling solutions to reduce plastic construction and demolition waste and transformed it into recycled raw material.Compounding Specialists Ltd (Comspec) processes high-density polyethylene and polypropylene into pellets. The high-quality recycled resins are then used by the plastic manufacturers around the country as raw material in their production. Comspec handles over 4000 tonnes of plastic resins per year.
The new Joint Venture will mean there will be better recovery, recycling and reuse of plastics in the South Island where there will be a continued focus on improving plastic collection and informing customers that many products they throw away can be recycled.
Plastic Recycling NZ takes over ownership of Comspec on 1 June, with Waste Management to run operations. 22 Comspec employees will move across to Plastics Recycling NZ and will work closely with Waste Management's Christchurch head office.