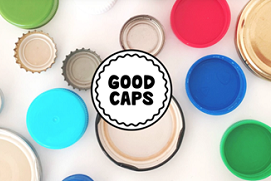 21
Oct
Good Caps Pilot Programme Success
Haumoana School is Tops! Congratulations to all the Hawke's Bay schools that took part in the Good Caps trial last term - a mighty effort! 2.8 tonnes of plastic and metal lids and caps were collected, and will be recycled into other products.


Plastics New Zealand partnered up with the The Packaging Forum and a group of New Zealand organisations with a shared passion for sustainability to establish Good Caps – a pilot programme designed to educate school children about the importance of waste recovery and recycling.
As a part of the Good Caps programme, the 12 schools competed against each other to collect the most bottle caps. With the pilot completed, Good Caps has announced the competition winners who collected the most lids and caps.
Students at Haumoana School came out on top, collecting the most caps, closely followed by St Mary's Catholic School, who came in second. Greenmeadows Primary School took out third place. The top three schools have won a Nanogirl Live show, a fun, live science performance showing young people feats of science and engineering.
Sandy Botterill, chair of the Good Caps programme, says the pilot had been a success, with a significant quantity of lids and caps collected.
"The mahi of the schools, students and community have meant that we've captured 2.8 tonnes of lids and caps that were destined to be litter or go to the landfill and will now be recycled into other products," Botterill said.
Good Caps are doing more work to progress the program, so more of the 5000 tonnes of recyclable lids and caps in landfills throughout New Zealand each year will be recycled. Thee Good Caps team is now writing a report on their key learnings from this pilot for the Ministry for the Environment. The team is working on how to continue collecting lids and caps in Hawke's Bay and possibly expand it to more collection points in the region.
For the pilot, the plastic caps have been sent to Aotearoa NZ Made in Palmerston North and reprocessed to make new products such as recycling bins and plant pots. The metal caps have gone to Hayes Metals in Auckland, and they have an offshore buyer for this material who will use it to create new products, such as car parts.
"As well as showing us what's possible, the school children have been learning about the circular economy and that these lids and caps are not rubbish, but valuable commodities that can be used again," Botterill said.
View the story in HB Today