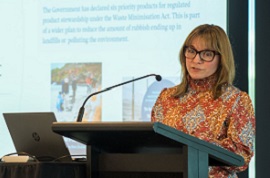 Sandy joined Plastics NZ at the start of 2021 and has been driving activity across two critical areas of our circular economy program Advancing the New Plastics Economy in Aotearoa New Zealand. This program is supported by the Waste Minimisation Fund, which is administered by the Ministry for the Environment.
Sandy's friendly and positive nature, alongside her exceptional work ethic, passion for the environment, and strategic brain, have made her a key part of our team and she will be greatly missed. We're not losing her entirely though. Her new role as Head of Corporate Social Responsibility for Foodstuffs NZ means our paths will keep crossing in the future.
In her time at Plastics NZ, Sandy led:
Sandy has also used her amazing facilitation skills to help the Plastics NZ National Executive (Board) to revise our strategy. We thank you Sandy for your help with this work and making it much easier on all of us!
We wish Sandy the best for her new role as Head of CSR at Foodstuffs NZ, and look forward to seeing what further impact she will have in improving New Zealand's sustainable business models and systems.