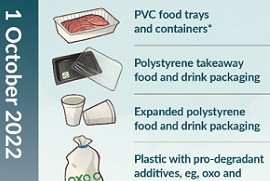 15
Sep
Plastic Phaseouts : Phase 1 - 1st October 2022
Don't get caught out! From 1 October 2022 it will be illegal to provide, sell or manufacture certain hard-to-recycle and single-use plastic products in New Zealand.
Step 1 Phaseout effective 1st October 2022 includes:
Single-use plastic drink stirrers
Single-use plastic cotton buds
Plastics with pro-degradant additives
Certain PVC food trays and containers
Polystyrene takeaway food and beverage packaging
Expanded polystyrene food and beverage packaging.
MfE has released guidance for sellers and manufacturers of theses banned products, along with descriptions of the banned products, exemptions and alternatives.
View the Plastics Phase-Out Guidance for Sellers and Manufacturers
Further plastic bans are expected to come into force in 2023 and 2025. For an overview of the products included in those bans see Phasing out hard-to-recycle and single-use plastics.