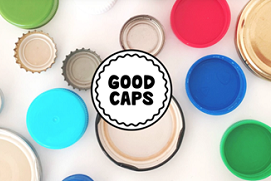 17
Aug
Spotlight on Circularity Programmes: August 2022
As part of the Plastics New Zealand 'Advancing the Circular Economy for Plastics' Programme; - Working Groups : Pilot Programme for Lids & Caps Update, and our Circular Design Adisory - What it can do for you!


Good Caps - Students collecting caps and learning about the circular economy
What's the problem?
Plastic lids and caps are an issue in Aotearoa New Zealand's resource recovery system with the majority of lids and caps either going to landfill (due to their small size), or ending up as litter in the environment.
What's happening?
Plastics NZ has collaborated with the Packaging Forum and a number of manufacturers and brands to create a 10-week pilot called Good Caps (www.goodcaps.org.nz) which:
teaches students and their teachers about the circular economy; and
tests collection, sorting, transportation and reprocessing of lids and caps (both plastic and metal).
There are 12 schools in the Hawkes Bay who will participate in a competition to collect the most lids and caps. In the 3 weeks since the pilot started, a whopping 875 kgs of caps have been collected (207 kgs of plastic and 668 kgs of metal).
The aim of the pilot is to share with young people and their whanau:
(1) the importance of saving materials from landfill;
(2) the value of the materials (particularly when separated into different material categories); and
(3) what can be made from these materials.
Any proceeds from the sale of materials to reprocessors will go to the Lions Clubs charity partner, Kidney Kids.




Check out the recent media coverage
Find out more
If you'd like to find out more, go to www.goodcaps.org.nz or contact Sandy Botterill, Circular Economy Manager on 027 535 3298 or This email address is being protected from spambots. You need JavaScript enabled to view it..
This working group is part of Plastics NZ's 'Advancing the Circular Economy for Plastics" programme which is aimed at helping Aotearoa NZ create a Low Emissions Circular Economy. This programme is co-funded by the Ministry for the Environment's Waste Minimisation Fund.
Circular Connect - Is your business interested in being more sustainable, but you're not sure where to start?
Maybe you have a couple of ideas in mind, but you don't know what projects will have the greatest impact?

Perhaps you're looking to …
Minimize the amount of plastic in your products or packaging
Ensure the plastic you use is effectively recovered and recycled
Create a reusable plastic product or packaging
Design your products so that they're easy to repair (or at least recycle)
These issues are difficult to navigate, but there are experts who can help. Get in touch to see if your business could qualify for CO-FUNDING (of up to $20,000)
How it works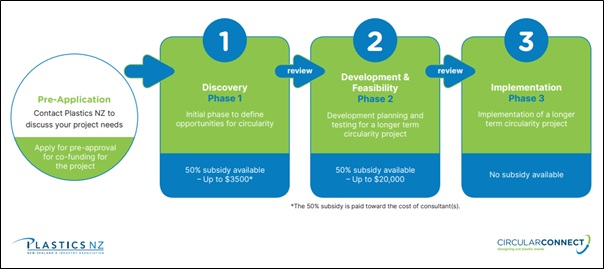 (1) Get in touch with Plastics NZ if you want to get more circular in the plastics you use.
(2) Complete a short Application Form.
(3) We'll connect you with a couple of experts who can help.
(4) We sign a Funding Agreement which details the specifics of the project.
(5) Get started on your project!
Find out more
If you or one of your customers is interested in learning more about CircularConnect, go to www.plastics.org.nz/environment/circularconnect or contact Sandy Botterill, Circular Economy Manager on 027 535 3298 or This email address is being protected from spambots. You need JavaScript enabled to view it..
CircularConnect forms part of the programme of work co-funded by the Ministry for the Environment's Waste Minimisation Fund to advance the new plastics economy in Aotearoa New Zealand.