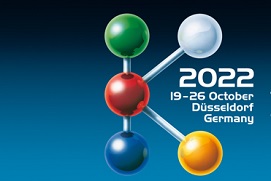 The worlds No 1. Trade fair for Plastics & Rubber is Back! 19 - 26th October 2022, Dusseldorf, Germany.

70 years of K - a success story made in Düsseldorf
What began as a small consumer fair with many everyday products such as nylon stockings has developed into the world's leading trade fair for the entire plastics and rubber industry. This year, K celebrates its 70th anniversary.
70 years of K not only means getting to know plastics in all its facets, but also meeting many celebrities at the fair and discovering inventions that revolutionise the industry time and again. We proudly look back on 70 years full of ideas, innovations and surprises. Join us on a voyage of discovery through K's past and be amazed at how long plastic has been with us in all its many forms.
Travel & Accommodation
For assistance with Travel and Accommodation please see the attached flyer or contact the NZ based representative
Robert Laing
Messe Reps. & Travel
P O Box 26522, Epsom, Auckland 1344, New Zealand
+ 64 9 2126200
This email address is being protected from spambots. You need JavaScript enabled to view it.
www.messereps.co.nz
Visit the K Fair website for further information