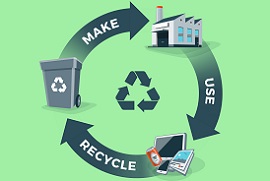 14
Jun
Spotlight on Circularity: June 2022
I hate waste. This is a powerful statement, but it's what gets me out of bed every morning … thinking about how Aotearoa New Zealand can harness the volumes of materials that have traditionally been perceived as "waste" and thinking about how we can use, repurpose or recycle these materials in an effective system-wide way.
In it's simplest form, this is what the circular economy is.
Plastics New Zealand, under Rachel Barker's leadership, and the focus and passion of Simon Wilkinson, was successful in securing financial support for a 3-year programme of work Advancing the Circular Economy for Plastics in Aotearoa New Zealand. The aim of the work is to really shift our system for plastics in Aotearoa. It was designed to be a holistic approach to change, encompassing: (1) education, (2) connecting brands with experts to help design for circularity and (3) national "systems-thinking" working groups focused on plastics where greater circularity would have an impact. We are now 21 months into our 3-year programme which is due to complete in January 2024.
Consumer attitudes to plastics
Consumer attitudes toward plastics hasn't changed much since our programme started in early 2021. The graph below shows New Zealanders' attitudes toward living sustainably continues to trend upwards. This is a great thing, and most of us would be happy about this. Unfortunately, however, Kiwis still equate plastic with not being sustainable. In a consumer's mind, there seems to be little differentiation between single use plastic packaging for example (or single use ANYTHING) and a life changing prosthetic limb, or a lightweight mountain bike helmet that could save a life.
Government attitudes toward plastic
Polypropylene
We have started to see a shift in both central and local government thinking toward plastics, and leadership in embracing the circular economy for plastic. We've seen 15 councils add #5 Polypropylene to their target materials for kerbside recycling in the last 15 months.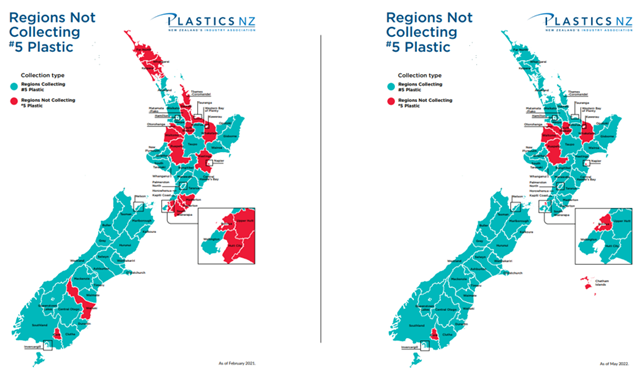 In addition, the Ministry for the Environment (MfE), in it's recent Transforming Recycling consultation, has recommended standardising #1, #2 and #5 as plastic materials to be collected at kerbside as these materials have active end markets in Aotearoa New Zealand. This is a real shift from 2019 where the focus was on #1 and #2 plastic only.
Expanded Polystyrene
Expanded polystyrene (EPS), has traditionally been seen as a plastic material that's hard to recycle (not because it's not recyclable), but more so because it's hard to keep contained when it breaks down and enters the environment.
MfE sought our assistance to run a national working group focused on two key areas: (1) what EPS protective packaging is able to be phased out; and (2) how might co-design regulated national product stewardship for EPS protective packaging. This is an example of an effective partnership between industry and central government.
Education is key
Re:Plastics
The free online guide has been downloaded and shared hundreds of times. We also finally beat Covid and held our first Re:Plastics Workshop In Auckland in May 2022. Interest is high in future dates, and we'll announce these soon for locations across New Zealand
Lids & Caps Pilot
While educating and increasing awareness for brands is important, we are also aiming the circular economy education at young people and teachers through a pilot programme called Good Caps.
The aim of the pilot is to recover lids and caps, and show young people, their whanau and teachers what this valuable material can be made into.
Designing out plastic waste
There has been so much interest in CircularConnect from brands looking to design out plastic waste. We have 11 projects at various stages of progress across both our Discovery (Phase 1) and Feasibility & Development (Phase 2) stages.

We're not there yet
Based on the Rethinking Plastics in Aotearoa New Zealand report by the Office of the Prime Minister's Chief Science Advisor (2019), 12% of waste in Class 1 landfills was plastic. Data published in 2020 from Eunomia showed that 8% of materials going to Class 1 landfills in Aotearoa are plastic. While there has been a reduction in plastic volumes being landfilled, there is still valuable plastic material being wasted.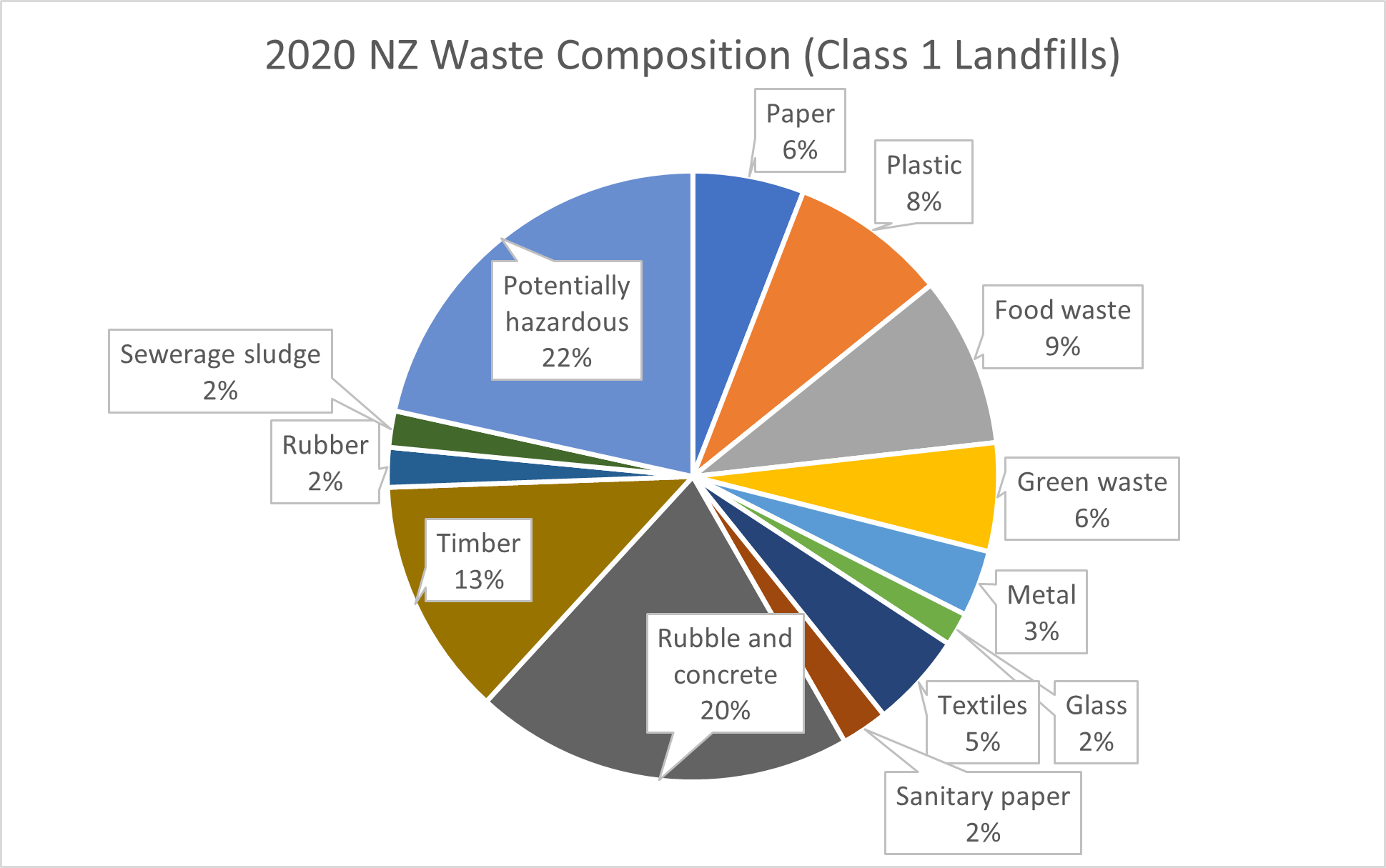 Source: Improvements to estimates of greenhouse gas emissions from Landfills (Eunomia 2020)[1]
From a circular economy perspective, we need to ask how we might create markets for this valuable material, so it can be reutilised, and not disposed of. While there's been a significant amount of work completed so far in Plastic NZ's Advancing the Circular Economy for Plastics in Aotearoa programme, there's still a significant amount of work to do to help create lasting, systemic change. Plastics NZ will continue to work across the system, from education to design to working cross collaboratively to ensure that plastic material isn't wasted, and we help create a whole-of-economy shift in the way we value and use plastic resources.
Find out more
If you'd like to find out more, please contact Sandy Botterill, Circular Economy Manager on 027 535 3298 or This email address is being protected from spambots. You need JavaScript enabled to view it..