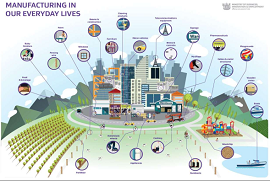 23
May
Advanced Manufacturing ITP Launch
The 'Draft Advanced Manufacturing Industry Transformation Plan' (ITP) will be launched for public consultation on the 1st of June 2022 in Tāmaki Makaurau Auckland. Join the Hon Stuart Nash, Minister for Economic and Regional Development, for the launch at 9:45am at EMEX 2022.
Consultation on the 'Draft Advanced Manufacturing Industry Transformation Plan' will be open for 6 weeks from 1 June to 13 July. We look forward to your views on the initatives proposed to support manufacturing into the future. We also encourage you to involve your workers in discussions as the feedback is also valuable in defining future pathways.
Please register to join the ITP mailing list if you are interested in receiving updates on the launch of public consultation and opportunities for participation through workshops, webinars, hui, fono or though written submissions.

There are multiple opportunities to engage with the ITP including participating in:
The Launch of Public Consultation - attend EMEX in person or the launch will be live streamed at advancedmanufacturing.nz
Online thematic workshops
Māori hui
Pasifika fono
Further information and how to register to attend these events can be found here


What is the Advanced Manufacturing Industry Transformation Plan?
The ITP will provide an overview of Aotearoa New Zealand's advanced manufacturing sector and outline a series of actions to accelerate its growth and transformation.
Since July 2021, 13 representatives from business, unions, government, Māori and wider stakeholders have participated in a Steering Group (Including PNZ CEO Rachel Barker), and 4 working groups with representatives from 44 sector groups, to prepare the draft ITP.
Why we need an Industry Transformation Plan?
Advanced Manufacturing has been prioritised for an ITP due its scale and the potential to significantly increase productivity, higher wage jobs and a globally competitive low emissions sector.
2 trends provide an opportunity to accelerate the growth and transformation of the sector over the next 20 years:
Advanced manufacturing is undergoing a fundamental shift through the application of advanced technologies and processes.
More focus than ever is being placed on economic activity that is sustainable, circular and low emissions.
Priorities and vision for transformation
The following 6 key priorities to drive growth and transformation of the advanced manufacturing sector have been identified:
improving the understanding and perceptions of advanced manufacturing
increasing investment in advanced technologies and processes to lift productivity and wages
making innovation, R&D and science work for advanced manufacturing
attracting and developing a diverse high-skilled and high-wage workforce
creating a leading sustainable circular net-zero emissions sector
enhancing global connectivity and opportunities.
Further information on the Advanced Manufacturing Industry Transformation Plan can be found here
https://www.mbie.govt.nz/business-and-employment/economic-development/industry-policy/industry-transformation-plans/advanced-manufacturing/