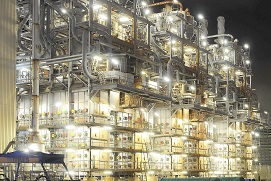 03
Mar
Qenos takes another step towards circular plastic manufacturing
Qenos has recently announced two major steps towards circular plastics manufacturing capability in Australia. Qenos and Cleanaway have joined forces in an Australian Plastic-to-Plastic Advanced Recycling feasibility study. Off the back of this announcement Qenos will be using advanced recycling technology from Plastic Energy and Axens
Australia's largest plastics manufacturer Qenos and the nation's leading waste management company, Cleanaway have signed a Memorandum of Understanding to undertake a joint feasibility study for plastic-to-plastic advanced recycling in New South Wales and Victoria.
The study will investigate the feasibility and environmental benefits of converting up to 100,000 tons per year of Australia's household soft plastic waste and mixed plastics, which would otherwise end up in landfill, into feedstock for use in Qenos' existing manufacturing facilities to produce Circular Polyethylene.
Circular Polyethylene has identical properties to virgin polyethylene and can be used in food contact and highperformance applications thereby supporting local packaging and food manufacturers to achieve the 2025 APCO National Packaging Targets.
Qenos will lead the study for one or more advanced recycling plants using its existing steam cracker and polymerisation facilities that would convert plastic waste pre-processed by Cleanaway. Cleanaway will leverage its existing collection and processing infrastructure and investigate new methods of collecting, sorting and pre-processing post-consumer soft plastics to provide the required volumes of suitable feedstock for advanced recycling.
In a second announcement in recent weeks Plastic Energy (UK), one of the world's leading advanced plastics recycling technology companies, and Axens (France), worldwide provider of technologies, products and services, for the production of cleaner, renewable, gas, fuels and chemicals, are partnering with Qenos in the planning of a major circular plastics manufacturing capability in Australia.
Plastic Energy, which specialises in advanced recycling of plastics using its Thermal Anaerobic Conversion (TAC) process and Axens which has developed the leading edge Rewind®Mix process will support the recently announced Qenos and Cleanaway joint feasibility study for the conversion of up to 100,000 tonnes of household soft plastic waste and mixed plastics back into Circular Polyethylene.
Circular plastics manufacturing using advanced recycling takes soft plastics and other hard-to-recycle plastic waste which currently goes to landfill, incineration or escapes into the environment and recycles this back into the same products. It is the next major phase in recycling, and is forecast to attract $680 billion of investment globally by 2050.
View the full Media Releases