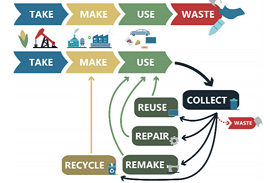 07
Dec
Spotlight on Circularity Programmes: December 2021 Update
As part of the Plastics New Zealand 'Advancing the Circular Economy for Plastics' Programme; Kick off 2022 with a circular plastic project & Polypropylene #5 Plastic is now collected across even more regions in NZ
Design Advisory Service: CircularConnect December 2021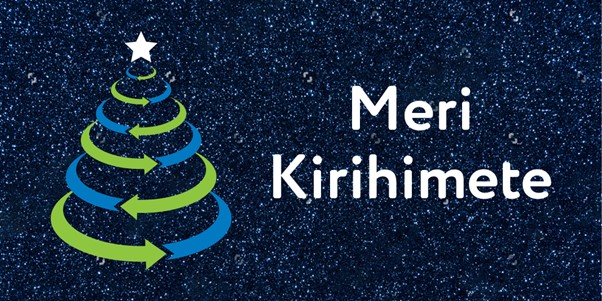 Wishing you all a very happy holiday and New Year!
As we all start to prepare for the upcoming holiday period, many businesses have started to think about what they'll do differently next year. If your business or organization uses plastics in your products or packaging, have you thought about how you might make those plastics more circular?
Kick off 2022 with a circular plastic project!
Perhaps you're looking to:
minimize the amount of plastic you're using in a product or packaging?
recover your plastics materials to ensure they don't go to landfill?
develop a product stewardship or refill programme to give your plastic material another life?
develop your products so that they're easy to repair?
At CircularConnect, we hear from brands that are looking to solve to these challenges as their customers are asking them to. CircularConnect connects brands and manufacturers to expert consultants who can help you solve circular plastics challenges.
Here's how it works …

If you or one of your customers is interested in learning more about CircularConnect, go to https://www.plastics.org.nz/environment/circularconnect
Find out more
If you'd like to find out more, please contact Sandy Botterill, Circular Economy Manager on 027 535 3298 or This email address is being protected from spambots. You need JavaScript enabled to view it..
CircularConnect forms part of the programme of work co-funded by the Ministry for the Environment's Waste Minimisation Fund to advance the new plastics economy in Aotearoa New Zealand.
Advancing the Circular Economy for Plastics - Polypropylene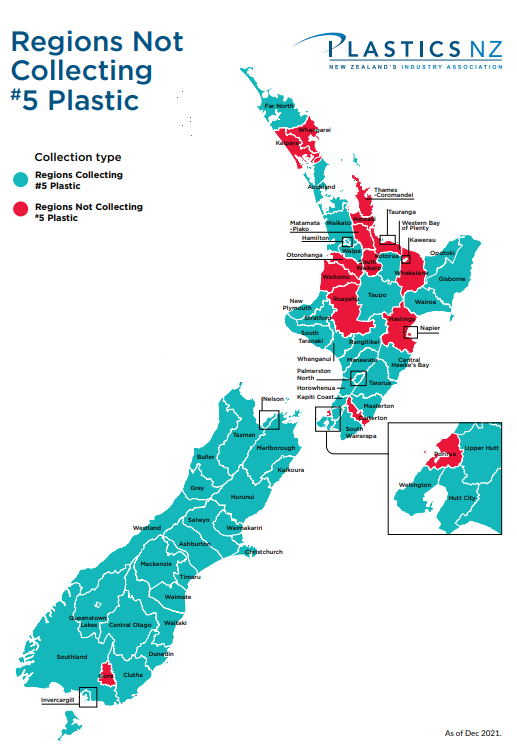 Polypropylene #5 Plastic is now collected across even more regions in NZ
Over the last year, New Zealand has seen the levels of polypropylene (#5 PP) being collected across the country increase with more regions opting to collect this valuable material. Seven regions have made the change this year.
Importantly, some of these regions have high populations (e.g. Tauranga, Lower Hutt and the Far North). The percentage of population of New Zealand that now has improved access to #5 PP recycling has grown from 81.3% (in March 2021) to 88.6% (in December 2021). In real numbers, this equates to 4.43 million (up from 4.06 million) people.
Looking at the map above, if you live in a region that's red, get in touch with your council and ask them why they aren't collecting this valuable material.
The value of recycled #5 PP
The value of recycled #5 PP (rPP) has increased during 2021. The value of pelletised rPP in New Zealand is strong and currently sits between NZ$1300-$1700 per tonne. Recycled polypropylene has continued to increase in the international commodity markets, with the value having increased significantly in the last few years. In the US, rPP commodity pricing has doubled in the last 6 months from USD18.44 cents/lb in Mar '21 to USD38.28 cents in Aug '21. In the EU, the price per tonne has increased 30% since February 2021 (from EUR850 to EUR1280 per tonne).
Next steps
The Working Group is shifting its focus now, to focus on increasing the amount of PP recycled in NZ, as well as initiatives that will increase the value of rPP.
Plastics NZ's national PP working group is helping to create circular pathways for PP in NZ. The next meeting will be held in early 2022.
Find out more
If you'd like to find out more, please contact Sandy Botterill, Circular Economy Manager on 027 535 3298 or This email address is being protected from spambots. You need JavaScript enabled to view it..
This working group is part of Plastics NZ's 'Advancing the Circular Economy for Plastics" programme which is aimed at helping Aotearoa NZ create a Low Emissions Circular Economy. This programme is co-funded by the Ministry for the Environment's Waste Minimisation Fund.