Waikato Branch Technical Event - Factory Tour NZSkydive Ltd (Pacific Aerospace)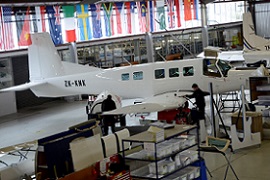 Join the Waikato Branch for their next technical event - a technical site visit to NZSkydive Ltd (Pacific Aerospace)
NZSkydive Ltd. is an aircraft manufacturing, design, and supply organisation. Established in April 2021 this private company, owned by two New Zealand aviation enthusiasts, purchased Pacific Aerospace Limited. The business now employs fifty personnel at the factory, a site that has produced aircraft for over seventy years. It's the only aircraft manufacturing company in the Southern Hemisphere and is currently building 750XL and 750XL-II turbo-propellor, utility aircraft with outstanding short take-off and landing capabilities.

The versatile aircraft built at Hamilton Airport operate on all continents, except Antarctica, as passenger and freight carriers, agricultural crop sprayers, surveillance and search & rescue, air ambulance, skydiving and operate particularly well in remote areas with only rough prepared runways. It is a real work horse, with a Pratt & Whitney turbo engine, Hartzell propellor and Garmin avionics and with all other parts made entirely by the men and women on site.
We look forward to welcoming Plastics New Zealand and provide a tour of the factory and a chance to see our aircraft under manufacture and to answer your questions.

Join the Waikato branch for a tour NZ Skydive Ltd (Pacific Aerospace). Note numbers are strictly limited for this event (maximum 2 participants per company).
When: Thursday 8th June 2023
3.15pm - 4.30pm
Where: NZSkydive Ltd (Pacific Aerospace)
333 Airport Road,
Hamilton 3240
Cost: FREE - Members (Maximum 2 participants per company)
Health & Safety:
Covered shoes must be worn.
Please bring High Vis Vest
For further information and to register for this event please download the following form or Register Online Here