Waikato Branch Event - saveBOARD Technical Event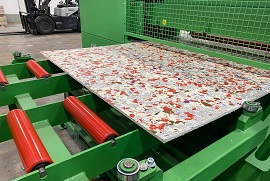 Join the Waikato Branch for their next technical event at saveBOARD!
Come along and learn what this company is doing to reduce waste and promote a circular economy!
saveBOARD take everyday packaging waste and upcycle it into high performing building materials - durable, inherently moisture and mould resistant.

Join the Waikato branch for a tour of the saveBoard facilities, followed by some social networking at the Te Rapa Tavern on completion of the tour.
When: Thursday 22nd September 2022
Where: 4.00pm - saveBOARD
30 Sunshine Avenue
Te Rapa, Hamilton
5.00pm onwards Te Rapa Tavern
Cost: FREE - Members
$25.00 Non Members (inc GST)
Health & Safety:
Covered shoes must be worn.
Please bring High Vis Vest
Face Masks and older clothes recommended as dusty environment
No H & S = No Tour
For further information and to register for this event please download the following form