Sad start to the new year for Acma Industries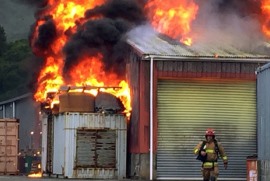 Two recent events for Acma Industries have led to a sad start to the new year.
It was with deep regret that we informed you last month of the sudden passing of Alan Bowmar on the 1st January 2017. Alan had been a long term Member of Plastics New Zealand and a strong Member of the Wellington Branch for many years. He was inducted as a CAD in 1988 and was a very inclusive and well liked colleague.
Alan started Acma Industries in 1978, originally supplying the local furniture and motor vehicle industries with moulded polyurethane foam cushioning and integral skin headrests and armrests. Joined in the business by his son John, Acma has developed into a leading international manufacturer, specialising in the science of polyurethane foam moulding. Recent projects have included developing Body Armour for Weta Workshops Lord of the Rings productions, Fire retardant seating for trains, foam safety tiles for use in retirement homes and foam underlay made from a mixture of new foam and rubber crumb (finely ground rubber, recycled from car tyres). While many of their products are destined for overseas markets, Upper Hutt is home to the business. Acma Industries was inducted into the Wellington Region Business Hall of Fame in 2015.
Three weeks later Acma Industries experienced a fire at their Montgomery Crescent site which was featured in the news. The fire totally destroyed their underlay factory but their storage factory and main moulding plant were completely unaffected and production continues as per usual. The few staff that work in the underlay section have been deployed to other parts of the operation.
PNZ and several Members have offered their support and assistance. John Bowmar will let us know if they require any assistance from the Industry.