Litter Clean up - A real wake-up Call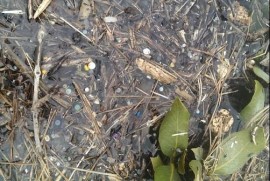 I've been running the Plastics NZ Operation Clean Sweep Programme for around 18 months now. It has been successful and has helped some of our members to prevent accidental pollution from their operations.


I thought we were really making progress in protecting New Zealand's beautiful waterways. Then, last October, I got a real wake-up call when I took part in an Auckland river clean-up.
On October 21st 2016 I took a group of 8 friends and colleagues on a clean-up of the Tamaki River in Auckland. We organised it through Sea Cleaners, a non-profit organisation that runs marine litter clean ups throughout the country on almost every day of the year. Since 2002 Sea Cleaners has removed 4,384,758 litres of rubbish from NZ shorelines. These guys pick up a lot of rubbish!
We set out from Half Moon Bay Marina at 10am. We were split into pairs and dropped at random locations in the upper reaches of the Tamaki River. For those that don't know it, the Tamaki is a large estuarine river in the east of Auckland. It has come under considerable pressure from all the housing developments in its catchment, as well as historical pollution from industry in East Tamaki, Otara, and Mt Wellington.
Two of us were dropped on a shell embankment surrounded by small mangroves, close to the Highbrook industrial area. The tide was about 1 hour away from high. We each had a roll of plastic rubbish bags and were told to pick up all the litter we could and work our way along the shore. The boat would be back in about 2 hours to collect us and our trash. I started to pick up large pieces of the usual litter: plastic bottles, chunks of polystyrene, bags, a couple of pairs of discarded overalls, newspapers, balls, cans. Then, as I started to get my feet wet in shallow areas around the mangroves I noticed the plastic pellets.
In amongst the mangroves and washing up on the shore were large pockets of floating resin pellets, the raw material our industry uses for manufacturing. I started to see more and more pellets as I moved through the area. Everywhere we went we found these pockets of raw material. Later, the guys from Sea Cleaners told us that they find these areas of resin pellets wherever they run clean-ups and it is something they would dearly love to see a solution to.
I'm an optimist and I think, on the whole, the plastics industry is committed to protecting the environment. I'm also a mad keen fisherman and love spending time in the rivers and harbours of New Zealand. The plastics industry needs to step up and address this issue and ensure that the finger of blame for marine pollution cannot be pointed at us.
I am not saying that plastic pellets is the only litter issue we need to address – our 3 hour clean-up yielded 7 cubic metres of trash, including 2 mattresses, 20 car tyres, and an old lawnmower. We can't control the way people dispose of rubbish, but as an industry we can control what runs off our sites.
There are very simple things that can be put in place to stop resin pellets from leaving manufacturing sites. I encourage all members to participate in our Operation Clean Sweep programme, which will give you free advice on how to stop pollution from your operations.
Contact me for more information about Operation Clean Sweep or where to buy drain filters. I can also help you to organise a team from your company to take part in a river or coast clean up in your local area.
Simon Wilkinson
Environmental Projects Manager
021944992
This email address is being protected from spambots. You need JavaScript enabled to view it.