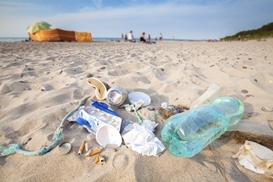 08
Oct
PNZ Environmental Committee Update
We have been busy. Plastic litter and waste has been highlighted a lot in the media recently. Behind the scenes we have been promoting the positive benefits of plastics and working with our members to reduce waste, reuse and recycle.
Here is a brief update on what we have been doing for you.
Operation Clean Sweep
Helping members to adopt best practices on managing raw material, chemicals and oils. To date 67 companies have completed audits. As a result of the publicity around granules on Wellington beaches the local industry has come together with PNZ to challenge all manufacturers and storage and transport operators to complete an OCS audit. We hope to roll this approach out throughout the regions.
Take up the challenge!
Energy Efficiency Programme
Delivering real energy cost savings with subsidised audits and funding assistance. This ongoing programme has reduced energy costs for members by more than $1 million a year.
Ministry for Environment National Resource Recovery Working Group
We are representing the plastics industry on this national working group, looking at the future of kerbside recycling in New Zealand. We are pushing for investment in local infrastructure to enable better sorting of kerbside collected plastic so it can be recycled on shore. We are also pushing for a more strategic approach to plastic waste, involving recyclers, Councils, government and our industry.
National Compostable Plastics Working Group
Participating in this working group looking at issues surrounding compostable plastics, such as NZ standards and misleading claims and local infrastructure to handle them at end of life.
Industry Litter Clean Ups
We help coordinate Branch litter clean up days as part of Keep NZ Beautiful week. This year we had 155 Plastics Industry people join our clean-ups in Auckland, Hamilton and Christchurch and removed 2 tonnes of litter from local waterways.
Member Material Exchange
An online exchange we have set up on www.plastics.org.nz that allows members to list waste materials and exchange them with other members.
Proposed Plastic Bag Regulations
PNZ have presented a submission on this. We have no members who supply supermarket check out bags, however this issue is important to all plastic manufacturers and suppliers. We are all concerned about the worldwide litter issue and the effects on our environment. Our submission covers the alternatives proposed, and that they should have an improved environmental footprint over the current bags, be reusable, recyclable, a minimum of 50 microns, made in NZ and have recycled content and that any agreement includes all compostable and degradable bags as well as conventional plastic. The full submission and proposal can be seen on our website.
Communications and Website
We are in the process of obtaining a license to use the fantastic material on plastics from the American Plastics Association website; www.thisisplastics.com (check it out). They have recently invested heavily in this site, and to be able to utilise this to get positive messages out about plastics in our world will be invaluable.
We are also in the process of updating the environmental content of our website including some position statements on key topics.
We are dealing with an increasing number of public and media enquiries and requests for information on environmental issues which we respond to with our members best interests in mind.
PNZ Environment Committee
October 2018