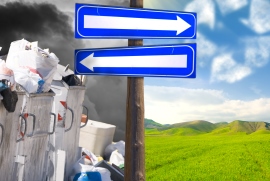 16
Apr
Waste Minimisation Fund round to open in May
The 2018 funding round opens for applications on Tuesday 1 May 2018 (9am) and will close on Monday 14 May 2018 (midday).
Associate Environment Minister Eugenie Sage recently announced the upcoming Waste Minimisation Fund round, which will be open for applications from 1 to 14 May. In this round we are encouraging applicants to highlight how their projects New Zealand accelerate towards becoming a circular economy.
The application form and guidance for the 2018 Waste Minimisation Fund contestable funding round are available here.
What is a Circular Economy?
The essential concept at the heart of the circular economy is to ensure we can unmake everything we make.
The products we use in all aspects of our lives are often designed and manufactured with little thought for the resources consumed in making them, or what happens to them at the end of their life. Apart from the most expensive purchases we make, like a car or house, when something breaks it is often more expensive to repair than to buy new. Usually, damaged or broken products go to landfill. Simply put, these products are not designed for reuse, repair, refurbishment or to be remanufactured. This take-make-dispose mind-set has created a linear economy.
A circular economy is an alternative to the traditional linear economy in which we keep resources in use for as long as possible, extract the maximum value from them whilst in use, then recover and regenerate products and materials at the end of each service life.
When a product is designed for the longest use possible, and can be easily repaired, remanufactured or recycled (or used, composted and nutrients returned) we consider it to have a circular life cycle.
A circular economy is fuelled by renewable energy (e.g. solar, hydro, wind and tidal power, and biofuels).
For more information on the circular economy, please visit www.mfe.govt.nz/waste/circular-economy.
Can I apply for a project that does not encompass circular economy principles?
While there is a preference for projects that support a circular economy, the WMF is still open to high quality, non-circular economy focused projects. All potential applicants should carefully consider the assessment criteria before deciding whether to apply.
For further details, including the application form and guidance, please visit www.mfe.govt.nz/wmf.
If you wish to discuss a proposal or have any questions about the application process please contact us at This email address is being protected from spambots. You need JavaScript enabled to view it..
Please send your completed application to This email address is being protected from spambots. You need JavaScript enabled to view it. between 9am Tuesday 1 May 2018 and midday Monday 14 May 2018.
Nāku noa nā,
The Waste Minimisation Fund Team