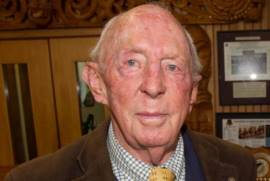 08
Sep
Obituary - James William (Bill) Foreman
Plastics New Zealand is saddened to inform you of the passing of long term Industry Member James William Ferguson Foreman (Bill) ONZM on the 30th August 2017 at the age of 90.
Bill was very much a pioneer of the NZ Plastics Industry. From humble beginnings in Hamilton he created a global plastics enterprise - Trigon Industries Ltd. This was built on values that still remain critical for success in our industry today.
Fearless entrepreneurship
Relentless committment to innovations & new technology
A passion for training & developing people
An aspiration to go global
Read Bill's Obituary below that was published recently in the Waikato Times.
After Bill Foreman sold his Hamilton international business, Trigon, he bought a bigger yacht. The purchase was not an out-of-character whim, but the realisation of a dream, and, well into his 60s, he happily helped sail the 83-footer from Fort Lauderdale to Fiji. The yacht, Mustang, was for Bill a more genteel return to a young man's adventure, when, fresh out of Hamilton Boys' High as a 17-year-old, he had joined the 3000-ton, four-masted sailing ship, the Pamir, as a deck boy, and sailed to Vancouver.

That early trip into the world at large foreshadowed in many ways his future career as one of this country's earliest private company international entrepreneurs – he liked to call Trigon, which had its start in 1970 in Foreman Road, Te Rapa, the "world's smartest multi-national". By the time Bill called it a day (his farewell, fittingly, was held at the Takapuna Boating Club), he had helped Trigon plant the New Zealand business flag in the UK, the US, Singapore, and Queensland.
Noted business colleague Russell Cassey: "Internationalisation was a very bold thing to do in those days. Overseas was always on his radar, the idea of being global was always part of his plan."
The "plan" started when Bill joined his father, Morton (Mortie), at his Victoria Street company, Plastic Products, in 1953. Mortie, an innovator, assisted by engineer Douglas Wenham, had started the company making dolls during the war, and had gone on to perfect milk flow meters and vacuum regulators for the dairy industry, as well as that iconic footwear item, the Kaydee sandal.
After Plastic Products was sold, Bill started Trigon in 1970 with two colleagues, with the intention of manufacturing plastic film for the meat industry. Stuck for a name, but looking for something distinctive, they settled on Trigon after the wife of one of the three newly minted directors came across the word while reading (as one does) the dictionary in the bath.
The company started with eight people – but, by the time Bill had finished with it, Trigon had plants in America, the United Kingdom, and Hamilton; offices in Singapore and Munster in Germany; and a joint venture in France.
Businesswoman Diane Foreman, who, after Trigon, went on with Bill to found the successful Emerald Group, describes her ex-husband as a phenomenal, world-class entrepreneur.
"I think people underestimate how difficult it was to do business around the world in the 70s and 80s, with no cellphones and no computers. He had a fax machine in the bedroom, and would get up in the middle of the night to read messages – that's a true entrepreneur. He would collect his secretary in the small hours to send off telex messages. His big thing was internationalisation – he didn't so much export product as he exported people – he took Waikato-trained people to feed industries overseas."
One of Trigon's early successes was perfecting plastic shrink packaging films for New Zealand's meat export industry. Exporters in the 60s packaged meat in side-gusseted plastic liners (entrapping extra air). Consequently, the meat lost its colour and texture. Trigon engineers solved the problem by developing Shrinkvac, a high-energy shrink bag. When the shrink-wrapped lamb arrived in UK supermarkets, it was noticed, not just by the consumer, but by the British packaging industry. Trigon started exporting hundreds of thousands of bags to the UK before setting up a plant in Telford, a depressed mining region, in 1986.
It was Trigon, too, that first produced and marketed the plastic envelope, now the indispensable packaging of courier firms worldwide. The envelope was developed from a failed attempt to replace, with plastic film, the waxy paper used for wrapping blocks of butter. The experiments around making a tougher, heat-sealable wrap, led to the idea of the envelope. The exercise really took off after Trigon representatives, during a quiet moment at their stall at a trade conference in the United States, serendipitously got talking to representatives at a neighbouring stall, of a Seattle company, which produced air courier consumables.
Trigon went on to build the first of its custom factories in Seattle in 1988. While this was all under way, Bill managed a further business coup, selling a wrapping system featuring tamper evidence, safeguarding money in transit, to the Bank of America.
Diane described Bill as incredibly hard-working. "He was tough but fair. He would make quick judgments of people, was usually right, was a very early adopter, and was one of the first in New Zealand to use psychometrics in the 60s for recruitment. In our terms, today, he was a disrupter."
Yvonne Foreman, who married Mortie (and was also Trigon's public relations manager), says among the most important contributions Trigon made was the employment and training of staff and the considerable economic benefit which accrued to the community. "Trigon was the largest private employer in the Waikato region for many years. At one time, Plastic Products and Trigon between them trained in Hamilton more than two-thirds of the plastics engineers for New Zealand."
One of Bill's undoubted strengths as a manager was his ability to build teams. Bill was both gender and colour blind – he brought young women into senior management. Although he could be demanding, people who worked for him were very loyal. "They gave him their best, he made them feel important, even if they were making the cups of tea," Yvonne said. This ability to connect with those he met lived on after Bill had left Trigon. Russell remembers that, on subsequent visits when he called in on former Trigon plants overseas, people would shake his hand, and first ask after Bill, before moving on to any other topic.
Bill was justifiably proud of the company when Trigon was awarded the Governor-General's Award for Export Excellence in 1986. He was awarded the ONZM, for services to manufacturing, in 1998; made an honorary fellow of Wintec in 2003; and was tickled not to be forgotten by Hamilton Boys' High when, in 2008, he was inducted onto the school's newly founded business hall of fame.
Trigon was sold to American interests. Even then, Bill had thought ahead, and initiated an employee shareholding scheme, Russell says. "What I know for sure is, when the company was sold in January, 1995, many staff on the factory floor got a nice surprise, they were cashed out at full value. They could take instead, shares in Sealed Air, but few chose to."
After Trigon, Bill explored other business adventures with Diane and the Emerald Group. Together, through Emerald Foods and its international ice cream brand New Zealand Natural, they developed a franchise network to 35 countries.
In his time Bill was a member of Jaycees in Hamilton; on the board of the Waikato Polytechnic (now Wintec); president of the Plastics Institute of New Zealand; and an elected member, and later president, of the Auckland Manufacturers Association. He was a serious art collector for many years, and proud of his collection, which hung both at home and in his business offices. Bill and Diane were founding partners in The Hearing House in Auckland and partners in Mercy Ascot Hospital, one of this country's largest private surgical facilities.
Bill married three times: to Mary; Mary Pat; and Diane. He has eight children and two stepchildren.
This article written by Charles Riddle
Please email This email address is being protected from spambots. You need JavaScript enabled to view it.