Next Conference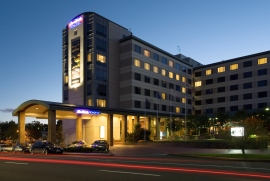 Join your hosts, the Waikato Branch in Rotorua on the 17th & 18th May 2018 for the 74th Annual Conference with a compelling theme of "Collaboration for Success".
Our venue is the Novotel Rotorua Lakeside, situated in the heart of the city, chosen for its fabulous location, ambience and amenities, right on the doorstep of Rotorua's famous 'Eat Street'.

The meaning of Collaboration is well understood and while success can mean many different things to different people for me it is about ensuring a sustainable future for plastic manufacturing in NZ. This is no small challenge with changes in technology, digital globalisation and the impacts of mother nature and environmental pressures all converging and accelerating in pace at the same time.
Never has it been more important to join other industry players to learn, network and share views on how these trends will impact our workforce, business and the industry and how as leaders we will need to respond.
As an industry we need to ensure the new Government reaches a deep understanding of the value of manufacturing to the general well-being of NZ communities and the economy. We need to advocate on the importance of creating the right business environment and providing targeted support which will enable manufacturers to grow innovative product solutions, produced locally but marketed globally.
It is also extremely fitting given the Conference theme that EECA is again our principal sponsor. We thank them most sincerely for supporting this event.
Similarly, we have arranged for a late Thursday afternoon tour of Scions' facilities and an update on their latest developments in bioplastics and the use of renewable resources
Other highlights include:
Golf at Rotorua Golf Course – Arikikapakapa - on the Wednesday prior to Conference
A Thursday evening SCION sponsored Networking Event
National AGM
A Friday night "Dress for Success" Gala Dinner with a Live Band sponsored by Competenz
Come and be inspired by motivating and entertaining speakers and future thought leaders and position your business for future success
We look forward to seeing you in May
– Register now to secure your place.