How Do I Enter?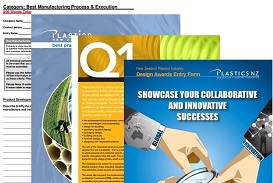 To help simplify the entry process PNZ has provided guidance in the form of mandatory Entry Templates and links to relevant guides that can be utilised when completing your entry.



Entry Form:
Download the official entry form below or email This email address is being protected from spambots. You need JavaScript enabled to view it.
Entry Templates:
Templates are provided to provide the correct guidance for the level and quality of information to be submitted in your entry.
Use of the templates is mandatory.
Design Guidelines:
Guidelines that are applicable to the judging criteria
Still unsure or need further information? Please contact Plastics New Zealand and talk to us today about your entry!
Email This email address is being protected from spambots. You need JavaScript enabled to view it. or ph 09 255 5662